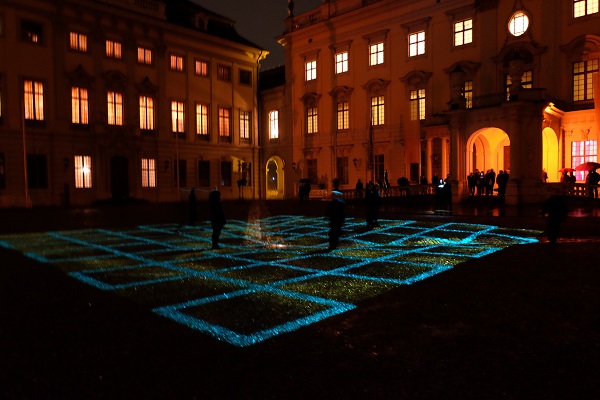 Chaosmos art event to be presented during and towards the end of the icebreaker cocktail, is a video-installation with performative elements, by the artist Aemilia Papaphilippou. 
The video-installation, to be held at the Atrium of the Muses and among the conference attendees, is an immersive interactive experience, fully visible from above the flight of stairs.
The performance, conceived by the artist, will be realized with the kind participation of Eleftheria's Rizou studio.
The editing of the video is by the artist with the technical support of Notis Benos.
The technical implementation of the projection is by NewMediaServices.
"Chaosmos", or "Chess Continuum- Chaos Order Dance at the Court", or "The Ludwigsburg Fugue", was initially projected at Ludwigsburg Palace in Germany, in 2019, commissioned, in the context of Raumwelten Conference on Architecture, Scenography and New Media, by Ulrich Wegenast, where the artist was invited furthermore to deliver the keynote speech on the notion of "Ordung".  
The images presented here are of this previous performance and are by Reiner Pfisterer.
The video will be available after the end of performance