Tutorials IAC 2022 Athens
Date: Sunday, 4 September, 2022
Place: National Centre for Scientific Research "Demokritos"
Patr. Gregoriou E' & 27 Neapoleos Str.,
15341 Agia Paraskevi, Athens
How to get here and timetable & Organized transport to and from the Tutorial venue
Transport free of charge is organized for all Tutorial participants for the 5-minute trip by bus from Nomismatokopio METRO station to the Tutorial Venue (NCSR Demokritos) and back.
Meeting point: NOMISMATOKOPIO STATION
Take Line 3 of the Metro (Blue Line) to the "Nomismatokopio" station. In case your accommodation is near a station of Line 1 (Green Line) or Line 2 (Red Line), the transfer stations with Line 3 are "Monastiraki" and "Syntagma", respectively.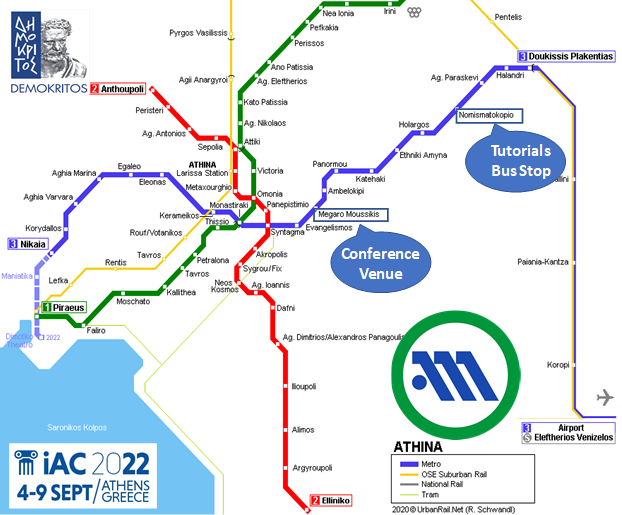 You may find more information about Athens Metro, including timetables, tickets, maps, Covid-19 protocol, parking and safety information at the following link: https://stasy.gr/en/.
Upon arrival at the Nomismatokopio station, take the "Kondylaki Street" exit and walk towards the Tutorials Bus Stop (see map below). You will recognize the Tutorial buses displaying the conference Logo. Conference staff will be there to assist you. You will need to show an identification code (Mobile application QR code-or printed copy) when entering the bus as proof of your tutorial registration. Instructions for this ID check procedure will be e-mailed to you in due time before the conference.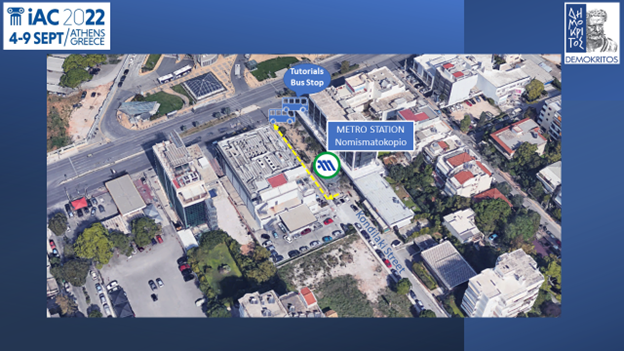 ORGANIZED BUS TRANSPORT DEPARTURE TIMES:
Nomismatokopio to NCSR Demokritos
NCSR Demokritos to Nomismatokopio
ORGANIZED BUS TRANSPORT DEPARTURE TIMES:
Nomismatokopio to NCSR Demokritos
Nomismatokopio to NCSR Demokritos
The buses will bring you to the N.C.S.R. "Demokritos" campus, where all tutorial lecture halls are located. A map of the campus is provided below, indicating the bus arrival and departure point, as well as the different lecture halls. Conference staff will be also available onsite to assist you and guide you throughout the NCSR Demokritos campus.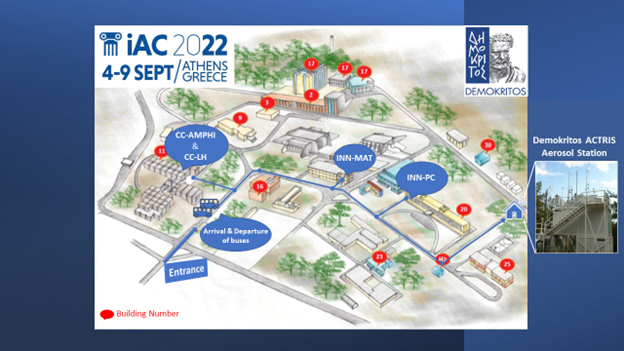 Tutorials Secretariat contact info: